Built Environment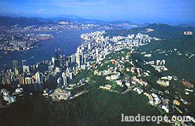 With less than 25% of land developed, Hong Kong covers Hong Kong Island, Kowloon, the New Territories and Lantau Island.
Hong Kong Island is an island of less than 80 sq.km. with much of that being mountainous rock. Land for development here is at an absolute premium and is thus utilised to its fullest advantage. High-rise apartment blocks, some over 40 storeys, are a common sight while low-rise developments or townhouses are only found in neighbourhoods which have height or zoning restrictions such as The Peak and coastal areas along the main south island roads. Accommodation options available in areas close to the Central Business District, including Mid-levels and Happy Valley, are mostly exclusive high-rise apartment living.
Across the famed Victoria Harbour, Kowloon and the New Territories are likewise divided into high-rise and low-rise areas.